The first Oktoberfest was held on October 12, 1810, in Munich to celebrate the wedding of Prince Ludwig I of Bavaria and Princess Maria Teresa of Saxony-Hildburghausen on what was to become known as Theresienwiese – Theresa's fields. In subsequent years, horse races were held on the fields to celebrate the anniversary of the royal wedding.
This annual event became Oktoberfest tradition. Oktoberfest is dedicated to the fall harvest and to beer, the region's most famous product. People came from throughout Germany to enjoy the celebration consisting of dancing, singing, and drinking beer.
If you want to get more information about Oktober fest, then check out this source Kitchener-Waterloo Oktoberfest.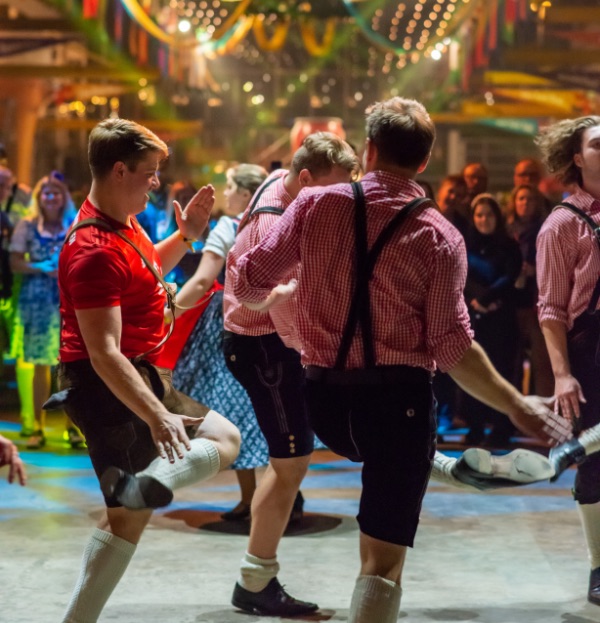 Oktoberfest Today
Oktoberfest 2005 celebrates its 172nd year. Oktoberfest is the largest festival in the world, with 6 million visitors from around the world attending the Munich Oktoberfest each year. Each year, these attendees consume more than 5 million liters of beer and over 200,000 pork sausages, as well as large quantities of traditional hearty fare such as sausage, hendl (chicken), and sauerkraut, along with such Bavarian delicacies as roast ox tails.
Only six Munich breweries are allowed to serve beer at Oktoberfest – Löwenbräu, Spaten, Augustiner (pictured right), Hofbräu, Paulaner, and Hacker-Pschorr. Each Bierzelte (beer "tents") hold some 3,000-10,000 people. There are currently 14 main tents at the Oktoberfest. A special Oktoberfest beer is brewed for the occasion which is slightly darker and stronger, in both taste and alcohol.
The festivities are accompanied by a program of events, including the Grand Entry of the Oktoberfest Landlords and Breweries, the Costume and Riflemen's Procession, and a concert involving all the brass bands represented at the "Wies'n".
The History of Oktoberfest